Coming up this April!
Take this opportunity to join our Followers Team, directed by the one and only Elena Rovito.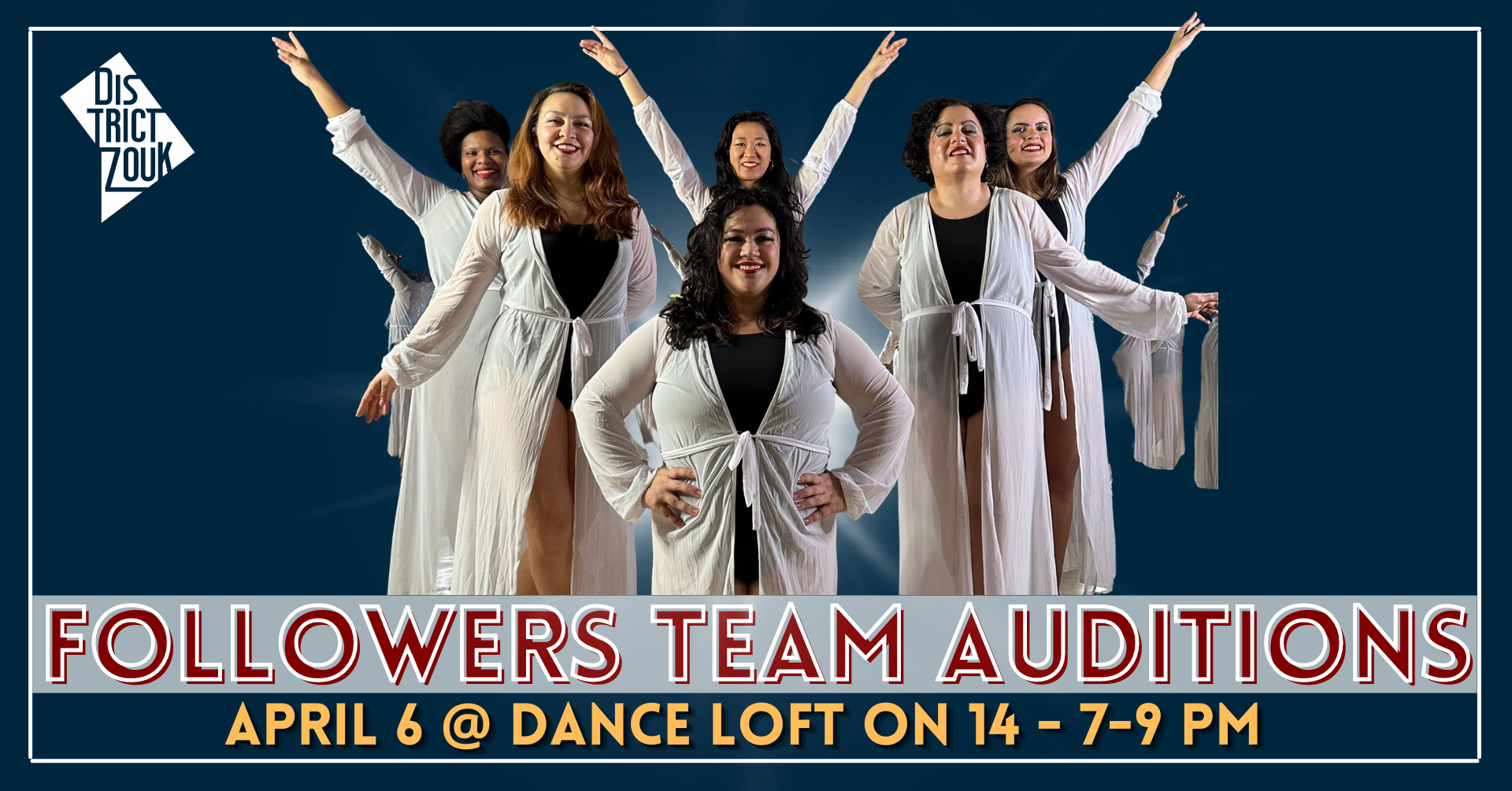 Come audition for Season 3 of the District Zouk Followers' Team under the direction of Elena the Rhinestone! 
WHAT WE DO?
This team is mainly focused on solo zouk technique, with some emphasis on cross-training in other styles such as ballet and samba to enhance your zouk. Each class starts with technique coaching followed by performance training. We will learn and perfect choreography to perform and compete at various events. Elena strives to create a supportive and encouraging learning environment, down to choosing performance costumes that fit a wide range of body types and comfort levels.
WHO CAN AUDITION?
It is open to dancers of all genders, bodies, backgrounds, and roles who would like to challenge themselves.
WHEN DO WE MEET?
Practices are every Thursday 7-9 pm at Dance Loft on 14.
HOW MUCH IS THE TEAM?
Team dues are $90 per month. If you need to take a break for some reason you can freeze your membership for $20 per month.
WHAT IF I DON'T MAKE THE TEAM?
For dancers who aren't yet ready for the team, we invite you to join our solo technique classes on Mondays!
Come audition for the Followers Training Team
Safety Protocols
Participants must either
Be fully vaccinated with the bivalent omicron booster

Present a negative rapid COVID test taken the day you come (a photo with the date and your ID is sufficient), or

Wear a mask

Note: for our socials and weekenders vaccination is not required, but if you're not vaccinated you must either present a negative test or wear a mask.
Did you know we have a Code of Conduct?
DZ's Code of Conduct helps us promote a safer and welcoming environment to the community.
When attending our events, all participants and instructors agree to abide by the terms of our Code of Conduct. We encourage everyone to read it and get acquainted with its terms. The Code of Conduct also lays out the process one can follow in case of violations.
Other important details
All of our events follow the rules laid out below:
NO AT-THE-DOOR SALES: Tickets must be purchased online in advance through Dance Place. No sales at the door. No exceptions.
PASS TRANSFERS: Transfers are permitted, but check with us to make sure the person you're buying a ticket from actually has one if you don't know them personally.
REFUND POLICY: In the event that someone is exposed to someone who is diagnosed with COVID-19 or is sick the day of the event, please can contact us for a refund. Refunds will not be granted for any other reason.
We look forward to Zouking again together!